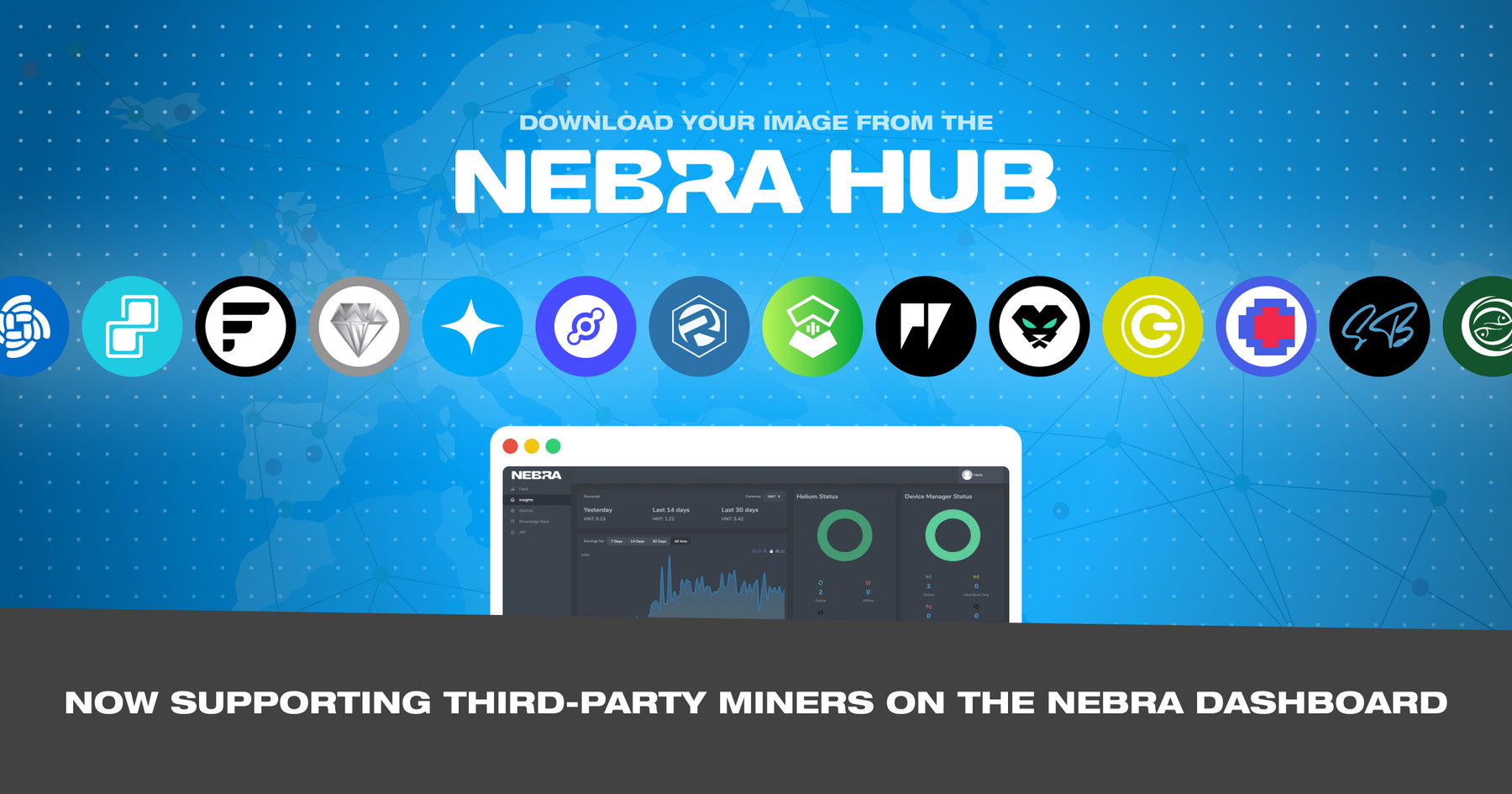 Own a third-party Helium hotspot? Supercharge your earnings with Nebra Dashboard
Discover the power of multi-mining with the Nebra Dashboard
Whether you own a Nebra hotspot or you joined the Helium Network with a third-party manufacturer, the Nebra Dashboard can help you unlock the full earning potential of your hotspot while you effortlessly manage your fleet.
Our world-class device management platform is already compatible with half of the devices on the Helium Network - with more being added soon! Sign up for the Nebra Dashboard today and increase your earnings while you sleep with Mysterium and coming soon - ThingsIX.
Nebra Dashboard is currently compatible with: 
This is just the beginning - we're continuously broadening our horizon, with many more additions on the way. So whether you're an existing Nebra user or own a third-party hotspot, we've got you covered. 
Multi-Mining
Discover the power of multi-mining with the Nebra Dashboard. Our platform opens up a world of potential for your hotspot devices, enabling you to increase your earnings while you sleep with Mysterium and coming soon, ThingsIX. 
Mysterium, the decentralised VPN and proxy provider, allows users to share and monetise their spare bandwidth by earning MYST token. Read more about our partnership here.
This feature allows you to *earn an additional $15 a month on average with Mysterium, without affecting your Helium network earnings. Multi-mining is included in our monthly license fee of just $2.99 per device. Still not convinced?
Try it now for free with our 14 day free trial​. 
Don't just mine, multi-mine with the Nebra Dashboard and watch your earnings grow!
What is Mysterium?
Mysterium network is an innovative protocol and network built on peer-to-peer technology that offers secure, private, and unrestricted internet access. Anyone with unused spare internet bandwidth can monetise and share their residential IP connection. Individuals can become part of the network by turning their devices into nodes called MystNodes. 
When users connect to Mysterium's dVPN (decentralised Virtual Private Network) or B2B proxy service, their data is encrypted and routed through these nodes. This ensures anonymity and s their online activity. Essentially it is a VPN proxy network powered by the people and for the people.
Easy Integration with Nebra Firmware
Adding third-party hotspots to the Nebra Dashboard is a breeze. Experience simplicity at its finest with the Nebra Firmware. Designed with ease-of-use at its core, our firmware facilitates a quick and hassle-free integration process. 
Available to download now, the firmware can be simply flashed onto your hotspot, regardless of whether it's a Nebra device or a supported third-party hotspot. 
With the Nebra Firmware, transforming your hotspot experience is as simple as a few clicks!
Real-time updates
Waiting for outdated information from the Helium Explorer can be frustrating. But with Nebra Dashboard, you'll have access to real-time updates about what your hotspot is doing. This feature ensures you stay up-to-date with the performance of your hotspot, allowing you to make informed decisions and adjustments when necessary.
Prioritised Support
Need help? Nebra Dashboard provides prioritised support, with team members based all around the world to offer the best support possible. You can get direct access to the support team via live chat, and you can also visit our Knowledge Base for FAQs and the latest information.
Remote Fleet Management
Have you ever wished for a tool that could allow you to manage your hotspot fleet from the comfort of your couch? Nebra Dashboard makes it possible. With its remote fleet management feature, you can reboot, factory reset, or even shut down your hotspot. This feature not only saves you time but also enhances the security and efficiency of your hotspot operations.
Affordable Pricing
Take advantage of our limited-time offer and benefit from a reduced price of just $2.99 per device per month. This comprehensive package includes multi-mining, remote restart, hardware diagnostics, premium firmware and prioritised support. 
For those managing large fleets, we're ready to discuss volume discounts that can provide even greater savings. We're also excited to offer an annual license option, which comes with a 15% discount. Originally priced at $49.99 per device per year, you can now secure this annual license for just $29.99 per device. With Nebra Dashboard, we've made it more affordable than ever to optimise and manage your hotspots with ease
And the best part? You can start your 14-day free trial today! Experience all the features and benefits of the Nebra Dashboard without any upfront commitment
Full pricing details available at - https://dashboard.nebra.com/pricing/  
Join the Nebra Community Today!
With the expanded support for third-party hotspots, there's never been a better time to join the Nebra community. Enhance your hotspot experience with Nebra Dashboard today and reap the benefits of these exciting features. Start your free trial now at https://dashboard.nebra.com.
*estimated earnings cannot be guaranteed see - https://mystnodes.com/earnings
FAQ
Do I need to pay a fee for the Nebra firmware?
No, the open fleet firmware is free for everyone to use and download. If you wish to access the premium firmware and its features then you will require a subscription license for your device.
What is the Nebra Dashboard?
The Nebra Dashboard is an innovative platform that provides a comprehensive one-stop solution for monitoring your Nebra and non-Nebra hotspots. It enables you to track rewards and device status all in one place. It also allows you to manage your hotspots effectively with intuitive features like the "Rewards" section, "Helium Status" tab, and the "Device Manager Status" tab. Additionally, you can transfer devices between dashboards and remove devices when necessary, offering you complete control over your network.
How do I create an account on the Nebra Dashboard?
To create an account, navigate to https://dashboard.nebra.com/register/ and sign up for a dashboard account. You also have the option to sign up using your Google or GitHub account.
How do I add my device to the Nebra Dashboard?
A: After logging in to the Dashboard, start adding your devices. On the dashboard homepage, click "+Add New Device" on the bottom left-hand side of the page. You will see a pop-up "Add new device" that will give you two options for adding your device to the dashboard; Scan QR code and Manual input. You can scan the QR code on your Nebra hotspot, or if you have a third-party hotspot, you can manually enter the required information, which can be found on the local diagnostic page of your hotspot.
How will I know if my device registration is complete?
Your hotspot device will appear in the "Devices" Menu in the Dashboard once the registration is complete. You will be able to see its Helium animal name, Helium status, device manager status, License type, and Ethernet MAC. Additionally, when you add a new device to your dashboard, you will automatically start a 14-day free trial of the Premium dashboard service, which includes features such as dual mining, premium support, and remote start.
How can I monitor my hotspot's rewards?
A: The "Rewards" section of the Nebra Dashboard allows you to see the rewards of all your hotspot rewards within the last day, 14 days, and 30 days. The earnings chart shows you the earnings for each day.
What device details can I see on the Nebra Dashboard?
The device details section will show you the connection status, individual rewards, CPU usage, CPU temperature, memory usage, and storage usage. You can also issue a number of actions to your hotspot like reboot, restart, and shutdown.
Can I transfer my device to another dashboard?
Yes, you can easily transfer a device from one dashboard to another. To do this, go to Device List -> https://dashboard.nebra.com/devices/ and select Transfer in device property. Input the email address you would like to transfer your device to. If the recipient has a Nebra Dashboard account, the device will be transferred immediately. If the recipient does not have an account, an invitation link will be sent to them.
Is there any support available if I face issues with the Nebra Dashboard?
Yes, premium members who have a subscription for the dashboard will receive live chat support with agents using the popup chat button in the dashboard. This can be located at the bottom right-hand side. Clicking on the message icon will open up a chat window where you can speak live to one of the agents.