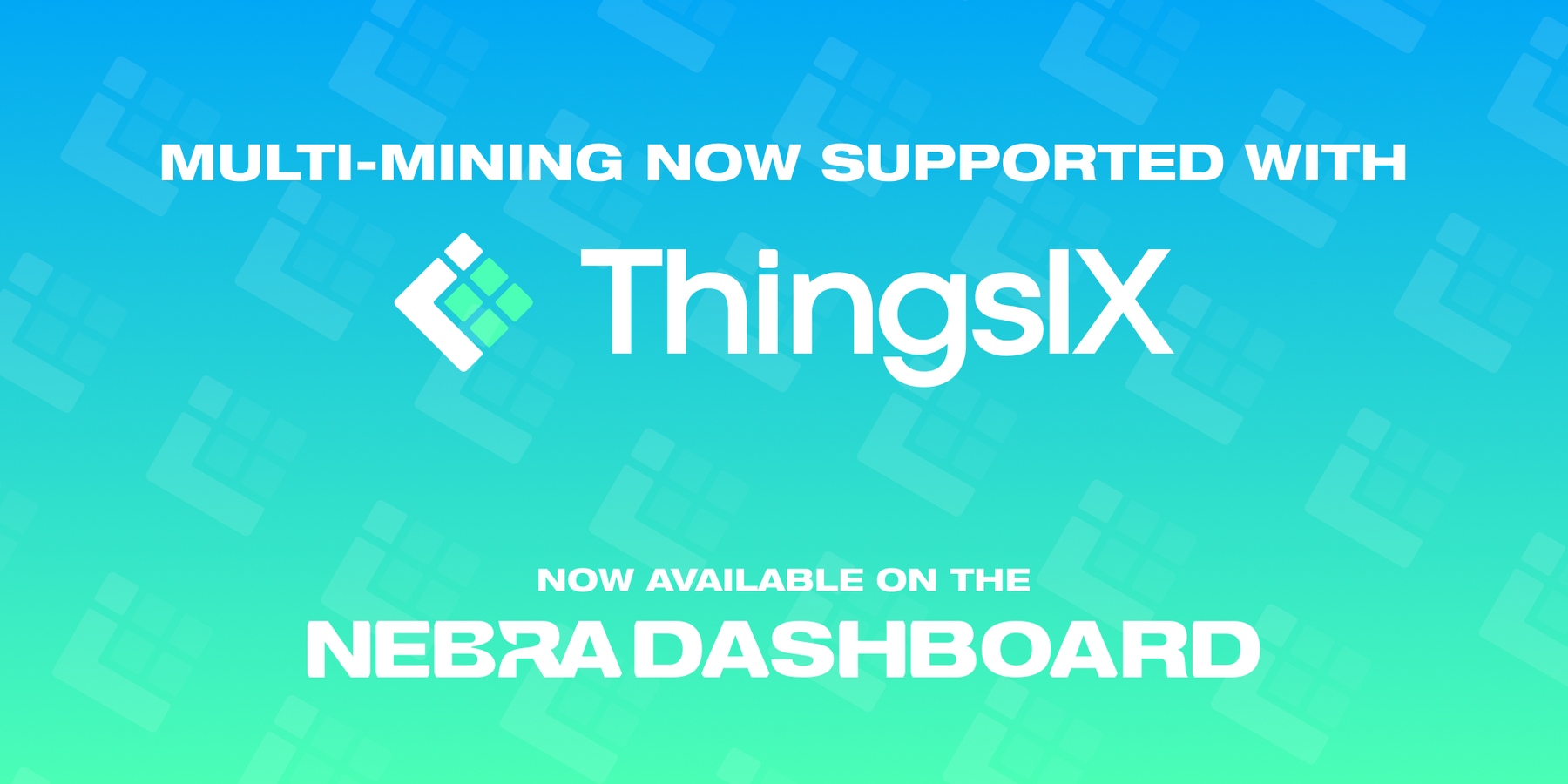 Nebra Dual-mining: ThingsIX Integration Now Available on Nebra and Third-Party Hotspots
Exciting news! We at Nebra are introducing the inclusion of ThingsIX with our Premium dashboard offering. This development opens up a whole new world of opportunities not just for owners of Nebra hotspots, but also for those with third-party hotspots. With ThingsIX, you're rewarded for providing reliable coverage and delivering dependable data to end users, enriching your journey in the world of IoT. 
Rewards are now available on the ThingsIX mainnet, the next milestone on the network. Onboarded gateways and mappers will receive daily $THIX rewards for their contributions to the network. What a great time to get started!
Now, everyone can harness the power of ThingsIX, a decentralised global Internet of Things network developed on LoRa® wireless technology.
Increase your returns: Unleash the power of dual-mining integration

Enhance your connectivity: Experience innovation in IoT with our dynamic solutions

Transform the ecosystem: We're driving evolution with third-party hotspot support
Designed to revolutionise the way you interact with your IoT devices, this integration isn't just about enhancing the user experience, It's about empowering users to explore additional earning opportunities. Make the most of the Nebra and third-party hardware, and take your IoT journey to the next level. 
Discover the world of multi-mining, dive into the expanded ecosystem, and unlock the full potential of your Nebra or third-party hotspot today!
A New Era of Multi-Mining
Nebra's powerful hardware and reliable firmware has paved the way for innovative opportunities - multi-mining. The introduction of the light hotspot firmware has allowed Nebra to tap into the full capabilities of the hardware, offering superior functionality and an unparalleled user experience through its dashboard features​.
Alongside ThingsIX, Nebra has introduced solutions like MystNodes (a dVPN service) and The Things Network (a global IoT network based on LoRaWAN® technology), in which Mysterium offers additional avenues of earning by utilising the same hardware and sharing unused internet bandwidth​.
Register your device now on our Dashboard
Expanding the Ecosystem: Support for Third-Party Hotspots
In a move that demonstrates our commitment to a more inclusive and versatile IoT ecosystem, Nebra has extended it's firmware support to third-party hotspots. With manufacturers like Controllino and Pycom coming into agreement with Nebra, a wider range of devices can now benefit from the innovative features Nebra offers.
This step is not just about bringing more devices under the Nebra umbrella. It's about advancing the hotspot ecosystem as a whole and ensuring that more users can benefit from the new features and services that Nebra is introducing. 
To view the full range of supported third-party hotspots, click the link below!
Dual-Mining: A Balancing Act
The concept of dual-mining, or earning from two different networks using the same hardware, has sparked plenty of interest in the community. However, it's worth noting that there are regulations put in place by the Helium Foundation Manufacturing Compliance Committee (MCC) on dual-mining that can affect how it's implemented. Therefore, when ThingsIX is enabled on your device the Helium functionality will be disabled to avoid this conflict.
It's also important to note that these new features and services require a subscription to Nebra's Premium Dashboard for low-cost of $2.99 per/month or an annual subscription fee of $29.99
Seamless Integration: Getting ThingsIX Up and Running on Your Hotspot
Unleashing the power of ThingsIX on your Nebra hotspot is a breeze, thanks to our straightforward, step-by-step setup process. To get started, you simply need to have installed the latest Nebra firmware on your hotspot, whether it's a Nebra device or a supported third-party hotspot. 
Sign up on our Nebra dashboard and pick a monthly or yearly subscription. After you do this, your device will get a special software update. Once that's done, you can access your device through the hotspot's local diagnostic page, and you're almost there.
You will need to onboard your device to the ThingsIX network which costs 20 EUR in $THIX (5 EUR for adding the gateway and 15 EUR for setting up the location details).
With your device configured, you're ready to start earning rewards from ThingsIX. No complex technical jargon, no unnecessary steps – just a simple, user-friendly setup to get you connected to the ThingsIX network in no time. Experience the benefits of ThingsIX and Nebra, all at your fingertips.
Check out our getting started guide here.
Nebra's integration of ThingsIX and the introduction of multi-mining represent exciting steps forward in the IoT space. While the landscape is still evolving and user experiences may vary, the potential for enhanced functionality and additional earning opportunities is a compelling prospect for many hotspot owners. 
As always, users should stay informed about updates from Nebra and the wider IoT community to make the most of these developments.
FAQ
What is ThingsIX?
ThingsIX is a decentralised global Internet of things network that operates on LoRa® wireless technology. It rewards gateway operators for providing reliable coverage and delivering dependable data to end users using the blockchain.
What is the integration of ThingsIX with Nebra and third-party hotspots?
The integration of ThingsIX with Nebra and third-party hotspots allows these devices to become part of the ThignsIX network, opening up new opportunities for earnings and functionality.
How does the integration of ThingsIX impact my Helium earnings?
When ThingsIX is enabled in the device diagnostic page this will result in the Helium network being disabled on the device to prevent two networks from competing for the same hardware module in accordance with the MCC.
Can I integrate ThingsIX with a third-party hotspot?
Yes, Nebra offers support for certain third-party hotspots flashed with the Nebra Firmware. You can check if your hotspot is supported by visiting https://hub.nebra.com 
Are there any additional costs for using ThingsIX on my hotspot?
Yes, there is a small subscription fee for using the Nebra dashboard premium features, and also there is an onboarding fee of 20 EUR to the ThingsIX network.
How do I get started with ThingsIX on my hotspot?
To get started, you will need to subscribe to the Nebra dashboard and add your device. Once the subscription is active, the Premium Firmware will be automatically updated on your device and you will be able to access the ThingsIX network through the local device page.