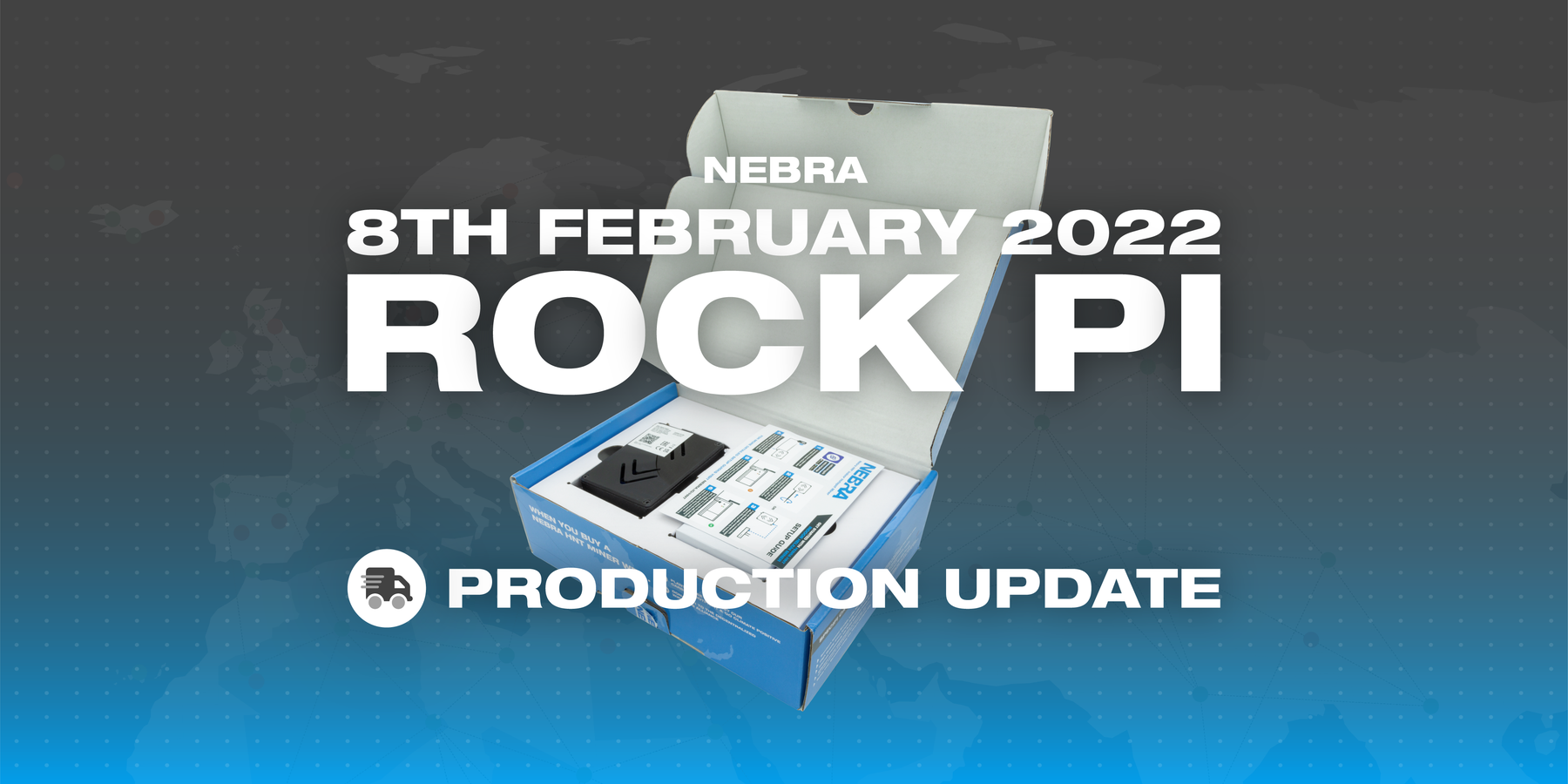 Nebra ROCK Pi Miner update - Manufacturing is restarting
Hi folks,
Chinese New Year has finished and we're ready to start manufacturing again :-)
Current figures 
Manufacturing schedule for February
If you remember from our last post, we didn't manage to ship out the initial 8,000 ROCK Pi miners due to Chinese New Year & shipping constraints. Thankfully, those shipping restrictions have started to lift so as soon as our team arrives back at the factory on the 9th of February the 8,000 units will be shipped.
We begin manufacturing again on the 9th of February. February is a shorter month, so we aim to manufacture 25,000 ROCK Pi Indoor miners. They will ship out as soon as they come off the production line. We'll be posting regular updates on how we're progressing. These units will be going out to batch 4 & 5 customers. Regarding our distributors, we're aiming to clear their backlog of indoor miners this month too.
SparkFun - 

Shipping all of their indoor miners this month

Digi-Key - Shipping all of their indoor miners this month
TinyTronics - Shipping all of their indoor miners this month
SAS KAMI - Shipping all of their indoor miners this month

Yadom -

Shipping all of their indoor miners this month
Distrelec - 

Shipping all of their indoor miners this month

Parley Labs - Please scroll down for further information.
Nebra Indoor Miner (ROCK Pi version) - Benefits
We've put a lot of time and effort into bringing the Nebra Indoor Miner ROCK Pi version to life, and with it, we've got several improvements. 
Robust industrial eMMC storage
The in-built eMMC storage is of enormous benefit to any Helium Miner user. We've kept eMMC storage as our primary solution instead of SD cards because SD cards tend to fail over time. We don't want our customers to have to fork out extra money on industrial-grade SD cards a few times a year. Our robust eMMC storage solves this problem.
High-performance Single Board Computer
We've opted for the ROCK Pi 4B, a powerful single-board computer. 
Base SOM: RK3399 processor
CPU Spec: Dual Core Cortex A72 1.8GHz and Quad-Core Cortex A53 1.4GHz.
32GB eMMC storage
2GB Ram
WiFi 4
Bluetooth 4
Network connectivity: 1GB ethernet, 2.4GHz 802 b/g/n WiFi.
High-quality components such as our SAW filters
The SAW filters on our LoRa Concentrator are the best of the best from Qualcomm. They filter out unwanted noise from the radio signal and reduce interference, which affects beaconing, witnesses, and potentially Helium mining rewards.
We donate $1 for every miner sold to DeWi.
Even though we're still working through clearing our backlog, we want to show that we're still working to support the community. Throughout last year we donated $1 for every miner sold to DeWi, and we'll continue to do this throughout 2022 and beyond.
We plant a tree for every miner sold
We're big proponents of doing what we can as a business to offset our carbon footprint. That's why with every order placed through our website, we plant a tree. We also offset the carbon footprints of all our staff with carbon reduction programs and tree planting. We're doing this in collaboration with Ecologi. You can even track how many trees we're planting by clicking this link here: https://ecologi.com/nebraltd. 
Reduced plastic in our packaging
Continuing with our environmental push, we've removed all of the plastic trays from our packaging. The box is now made entirely of cardboard. We will continue our push to make our products even more sustainable and reduce our usage of single use plastics. 
Secure component supply for 2022
We've been working extremely hard to secure a good supply of components to make our miners for 2022 and beyond. Thankfully we've received tremendous support from Semtech, Microchip, ROCK Pi and many of our other suppliers to help make this happen. However, right now, our priority is to clear the backorders. Once that's done, we'll share more details on this.
We've been investing heavily into improving and increasing the functionality of our Nebra Dashboard platform for managing our growing fleet of miners. In the coming month, you'll see some exciting new features rolling out, which we can't wait to share with you!
Growing technical support team
There are many things to consider when setting up a Helium miner. From installation location (inside/outside), antenna choice and much more. Whilst we have a number of guides that help with common issues, we're here to help you as much as we can with our growing team of talented tech support agents. If you're ever in need of some help with your Nebra miner, email support@nebra.com.
Dashboard Survey
Are you using the Nebra Dashboard? If so, we're curious to hear your thoughts! Fill out the survey below for a chance to win a Glamos Walker.
Future hotspot availability once the backlog has been cleared
As mentioned earlier, our number one priority is clearing our backlog of orders. However, going into April we'll have large volumes of miners available to purchase directly from the Nebra website or via our distributor network.
If you're interested in this, speak to one of our solutions architects to find how Nebra can fulfil your high volume needs by emailing sales@nebra.com. 
Other Reminders
Distributor orders / Become a distributor
After we clear the backlog we'll have significant amounts of stock and will be able to service customers directly through our website and distributors in your local region. If you are interested in becoming a distributor then please fill out this form.  
Nebra 5G Ready Hotspot
As you have probably seen Helium are adding a second wireless network protocol to the Helium Network - this is 5G (also will work with LTE). This works via CBRS (citizen's broadband radio service) which is a portion of radio spectrum around 3.5GHz frequency which can be used unlicensed by operators of approved LTE / 5G small cells to provide coverage indoors and in high volume areas or areas with no coverage at all. In the future, similar devices will be able to route paid traffic over WiFi as well.
This brings a huge amount of potential new opportunities and players into the Helium Network and this kind of development is fantastic to see. Worldwide, governments are looking at approving CBRS-like opportunities in spectrums that make sense in those jurisdictions so whilst only currently possible in the USA this should roll out to more destinations as time goes on.
On that note, our hardware and software teams have already got started on 5G ready hotspots and you can see the first production prototypes in the images below:
The Nebra 5G Ready Gateway uses an Intel Quad Core processor, has 8 GB of RAM and a 64GB SSD. It can connect to up to three 5G/LTE small cells, has optional WiFi and Bluetooth capability and a built in LoRa radio and GPS/GNSS as well (so it will work as an ordinary Helium hotspot as well as over 5G/LTE). We are targeting a price point for the gateway of around £850.
Currently the plans for 5G and LTE from Helium and DeWi are not entirely finalised, however pending their plans being announced our expectation is that we will get this working initially using the standard Helium Network LoRa protocol and miner and retail it as "5G ready" hardware - where we can push out a software update to upgrade it to the 5G capability when the time comes.
We plan to have this ready around the beginning of Q2. We will at that point get it audited by DeWi for use as a "full miner" whilst concurrently working to finalise the 5G/LTE software side and would aim to push out that functionality via a software update by the beginning of Q3. At this point, these are just rough estimates, but we know lots of people are very excited about 5G/LTE coverage opportunities so we wanted to share our plans with you.
If you would like to join our mailing list for further updates and news about our upcoming 5G products you can sign up for notifications on the 5G miner product page.
Parley Labs Nebra Orders - Batch 4 & 5
As detailed in a recent post, unfortunately Parley Labs are having problems with their payment processor and as such are unable or unwilling to pay us for their batch 4 and batch 5 orders as per our agreed order terms. If you ordered a Nebra product from Parley Labs, you should have already received correspondence from them about them refunding your batch 4 and 5 orders in full.

We will of course be honouring these orders in any case but we now need to take them on directly via Nebra. Therefore we need the information requested in this form in order to process your order.

For more information on why we have to take the orders directly now, you can read our blog post here. 
Jobs
We're continuing to grow & expand our team. If you see a role that suits you, please apply on one of the links above :) If you can't see your ideal position, feel free to reach out. We can explore and see if you have a role within our growing team