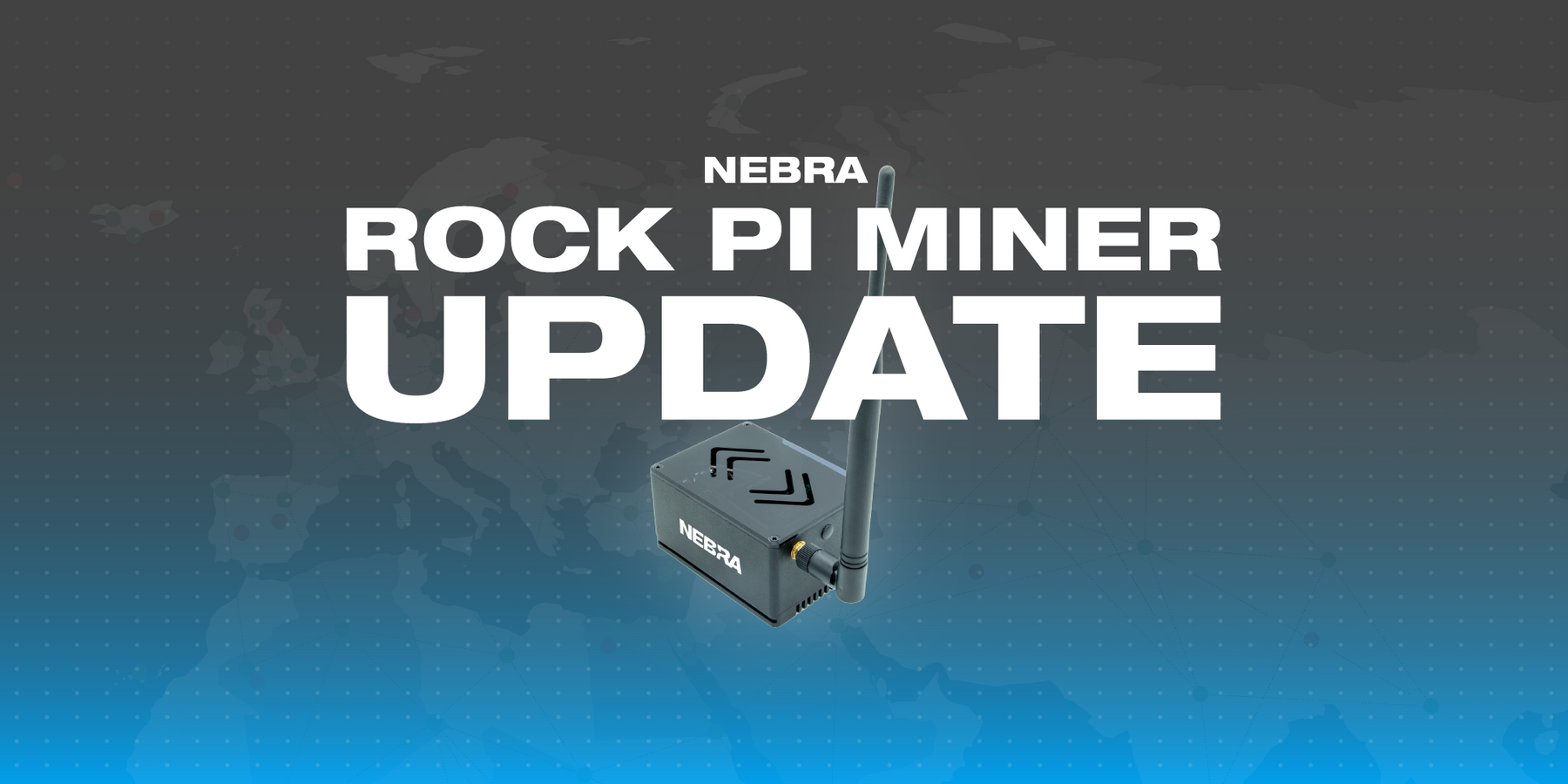 Nebra ROCK Pi Miner - 27th January Update
Hey folks, 
This is just a quick update following on from our earlier update posted on Tuesday.
Parley Labs Nebra Orders - Batch 4 & 5
As detailed in a recent post, unfortunately Parley Labs are having problems with their payment processor and as such are unable or unwilling to pay us for their batch 4 and batch 5 orders as per our agreed order terms. If you ordered a Nebra product from Parley Labs, you should have already received correspondence from them about them refunding your batch 4 and 5 orders in full.

We will of course be honouring these orders in any case but we now need to take them on directly via Nebra. Therefore we need the information requested in this form in order to process your order.

For more information on why we have to take the orders directly now, you can read our blog post here. 
ROCK Pi News
You may have noticed on Twitter today that we received the certifications for the ROCK Pi miner. This means we can start shipping after Chinese New Year! 
GOOD NEWS: certifications for our new ROCK Pi @helium miner are now in hand. Shipping in large quantities will begin after Chinese New Year 🥳 https://t.co/1hT0IPktlR

— Nebra (@NebraLtd) January 27, 2022
In our Tuesday post, we spoke about an issue Nebra miners were experiencing whereby they were filling up their storage and causing inconsistent behaviour. Our development rolled out an update and that seems to have corrected that issue. 
Due to our proactive monitoring of our fleet, we have noticed a drop in earnings, that was specific to our fleet. In our investigation we have noticed witness receipts not being reported to the blockchain due to p2p connection issues. We have identified the seed nodes being the issue. The recently added seed nodes haven't been configured in our custom sys.config, causing some peers to be unknown to our miners. We have pushed an urgent fix to our production and we expect to see immediate improvements in the next few days.
Distributor orders / Become a distributor
We're scaling up our manufacturing throughout 2022 and aim to clear our backorders of orders by the end of March. This includes fulfilling backorders with our distributors such as Distrelec, SparkFun, Digi-Key, Yadom, Mauser (already fulfilled), Totonic (units arriving with them on the 31st Jan) TinyTronics, SAS KAMI, MIAA Tech and more. 
After we clear the backlog we'll have significant amounts of stock and will be able to service customers directly through our website and distributors in your local region. If you are interested in becoming a distributor then please fill out this form.  
DHL shipment weight restrictions lifted
This is exciting news for us. Recently, all couriers shipping from China have imposed weight restrictions on all shipments & accounts, severely limiting the number of miners we've been able to ship since December.
From the 31st January 2022, all of the temporary weight limitations imposed by DHL out of (South) China will be lifted. As of this date they will resume normal operations without any temporary weight (pick up) restrictions. 
Jobs
We're continuing to grow & expand our team. If you see a role that suits you, please apply on one of the links above :) If you can't see your ideal position, feel free to reach out. We can explore and see if you have a role within our growing team