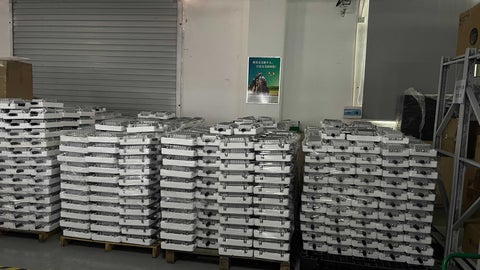 Nebra Miners - Shipping/Production Update - 7th December 2021
Hey folks
Here's our latest up on production, shipping, and the Nebra Dashboard. Please read on to learn what's happening.
Production this week
We mentioned in our last update that we were aiming to produce and ship a further 6,000 Outdoor Miners the following week. Unfortunately, we again had software issues that led to a production slowdown (caused by using an old version of the ECC programming codebase which was causing intermittent issues with non-compact keys getting programmed into the key slots and then subsequently not passing our production tests). We had all hands on deck last week to diagnose the issue and fixed it by Friday...all production miners have been reprogrammed with the updated firmware (note that this will not have any effect on any existing miners as it only relates to the production key programming) and we have over this weekend finished 2k pcs with the remainder in progress through the programming, testing and packaging procedure. We're aiming to finish the 6,000 units by the end of the week and have them packaged & ready to ship. Today, our manufacturing is preparing to send the 2,000 (Outdoor 915MHz) of the 6,000 units to us & our distributors.

Once these 6,000 outdoor units have shipped, our manufacturer will be retesting around 3,500 indoor units to ensure they were onboarded correctly as well as a further batch of outdoor units.

Additionally, we have got 25000 units of concentrators arriving with us next week from our other contract manufacturer, as well as ROCK Pi 4B+ units to go with them. The ROCK Pi cases we will not have starting to come through until the beginning of January but will begin building the other parts (hotspot HAT etc) this month in expectation. More info on the ROCK Pi miner is shared below also.
Courier weight limits from China & Hong Kong
As some of you will already know, unfortunately, for the last couple of weeks we've been struck by courier weight limits by our 3rd Party Logistics provider (Floship) caused by increasing shipping demand around the Christmas period, which has caused delays with shipments. DHL has had 100kg restrictions in place, and several other couriers we use have done the same (UPS etc.), which is why some of you may have received a tracking number from Floship or directly from Nebra that hasn't shown any movement, or in some cases where tracking numbers have been entirely cancelled and reshipped under a different courier/tracking number. We are working closely with the couriers and Floship to minimise the impacts of this and where possible looking for other carrier options to spread the load across multiple channels. Floship and other couriers have stated that these restrictions are starting to ease slightly as well. Either way, our Supply Chain Team will be monitoring the situation over the coming weeks and aiming to push out as many shipments as we possibly can. As always, if you have any questions regarding a shipment or tracking number then please feel free to reach out to us at support@nebra.com.
ROCK Pi Miner
We mentioned in our last update that we'd be moving over to the ROCK Pi single-board computer instead of using the Raspberry Pi Compute Module 3 going forward.

To recap: Due to supply constraints surrounding the Raspberry Pi mini-computer (read more here), we've made significant changes to our Indoor and Outdoor Miners and consequently have made the difficult decision to move away from the Raspberry Pi. Due to the global chip shortage, it will be challenging to receive Raspberry Pis in the quantities we require in 2022 to hit the targets we aim for in 2022/2023. As well as this, our suppliers of Raspberry Pis have missed several proposed shipment timelines and, in some cases, have said they are unable to give us any dates of when we could get them or cancelled the orders entirely.

The main benefit of the ROCK Pi miners is that we'll have a significantly better stock of the main components allowing us to manufacture orders of magnitude more quickly than we have been able to this year. An added benefit both to customers with existing orders and to the Helium Network in general is that these ROCK Pi miners are more powerful (RK3399 hexa-core processor - dual-core Cortex-A72 1.8 GHz and quad-core Cortex-A53 1.4 GHz) and have more RAM (2GB), 32GB onboard eMMC, Gigabit Ethernet, built in WiFi and Bluetooth (using AP6212 / BCM43438) with an external antenna and many other great features (it is significantly more powerful than even the Raspbery Pi 4 Model B that most other vendors are using). Last but not least, the new case design (see photos below) has got a large built in heatsink for the main CPU, as well as being made entirely of metal to wick away as much heat as possible (however, due to the external WiFi antenna, the WiFi performance is as good if not better than the existing hotspots).
What will happen to existing miner orders?
Going forward, existing customers who have a backorder with us or one of our distributors will now receive either the current indoor miner design that they purchase or the newer ROCK Pi version. The reason for the overlap is that we still plan to ship the original Raspberry Pi version of the miner whilst we still have stock of the Raspberry Pi. In tandem, we'll start producing the ROCK Pi miner and shipping that as and when they come off the production line. Unfortunately, customers won't be able to select which miner they'd like due to operational complexities. We will ship whatever miners we have available when shipping to customers in the current backlog queue. The ROCK Pi miner design is smaller, faster, more powerful (and some of our team think it is better looking too - but as they say beauty is in the eye of the beholder!). We'll eventually sell it for a significantly higher price due to the extra costs in the manufacture and rising component prices due to shortages. However, for all existing pre-orders either directly through Nebra or through distributors we will, of course, honour the original price you paid.

Having said all that, you are of course still entitled to cancel your order and receive a full refund if you don't like the idea of receiving the ROCK Pi miner. To do this, please email sales@nebra.com. Please also understand it may take a bit of time to get back to you as we are currently working through a backlog of tickets. If we do not hear from you, we will assume that you are happy to receive the ROCK Pi miner in lieu of the Raspberry Pi CM3 units.
What is the approval status of the ROCK Pi miner?
The ROCK Pi miner units are currently with DeWi and they will be auditing it shortly (the final necessary software change has just been completed last week. Previously, we mentioned in an update blog about restarting miners sales / pre-orders on our website…please note that this will only happen once we've shipped our outstanding backlog of miner orders to customers in batch 5 and we will potentially move to an in-stock order model rather than pre-orders.

Additionally, we have successfully added the very first ROCK Pi Nebra miner on chain over the weekend for testing which you can see here.

The FCC / CE and other compliance testing is underway and we hope to have the results back before the end of the year.
Accidental "Back In Stock" Email
If you follow us on Twitter you may have noticed over the weekend that we had an issue with a plugin on our Pi Supply website where ~14k people were sent an email saying we were "back in stock" of our Indoor Miners.


Our @PiSupply website had an error yesterday and accidentally sent out an email to people saying we had miners back available for pre-order when we actually did not.

Sorry for the confusion. This was just a website malfunction with our "back in stock" notifications.

— Nebra (@NebraLtd) December 5, 2021


This was a glitch / settings misconfiguration caused by our back in stock notification plugin and our inventory management system incorrectly sending out the email when one of our support staff processed a refund. We sincerely apologise for any confusion caused - we are not back in stock and are not taking more orders at this time.
Nebra Dashboard Software - New Feature
The software team has been busy keeping up to date with the Helium updates. They've also added a new feature to the dashboard, allowing you to remove miners if you have sold or given away your miner to someone else. If you log in to your Nebra Dashboard, you'll see this feature on the "Devices" page.
Compute Module & eMMC user changes
We've had a small number of customers try to change or upgrade the Raspberry Pi Compute Module and/or the eMMC module and/or the concentrator (for example to try and change frequency) . Please note that the Raspberry Pi Compute Module and eMMC Card are unique for each Hotspot and can not be interchanged between different Hotspots without our support team - it may appear to work, however it will no longer get updates and will likely therefore also have issues connecting to the Helium Network. Any self-driven test or any modification on your Hotspot will void the warranty, our tech support will not be able to support you, and any repair request will be at your own cost. Please contact support@nebra.com for tech support before taking any self-initiative and only proceed with any of these modifications if expressly told to do so by a member of our support team.
IPv6 Issues with Balena and Helium Network
We have had a couple of dozen support tickets where hotspot owners using IPv6 exclusively have issues with either not being able to sync properly to the Helium Network or not being able to get updates from our update server which runs on balenaCloud.

Please note that neither our update server or the Helium Network currently has support for exclusive connection over IPv6. So we would highly recommend using a network that has support for IPv4. It may be workable to use an IPv6 network with an IPv4 to IPv6 reverse proxy and still get the updates and sync to the network, but you will likely need to thoroughly test your setup first and monitor it regularly, at least in the initial stages. Balena have told us that they are working on IPv6 support for the update servers and should have something relatively soon, but until all hotspots move to gateway-rs (light gateways) software in the future, the Helium Network will not support IPv6 anyway.
Jobs
We're continuing to grow & expand our team. If you see a role that suits you, please apply on one of the links above :) If you can't see your ideal position, feel free to reach out. We can explore and see if you have a role within our growing team.