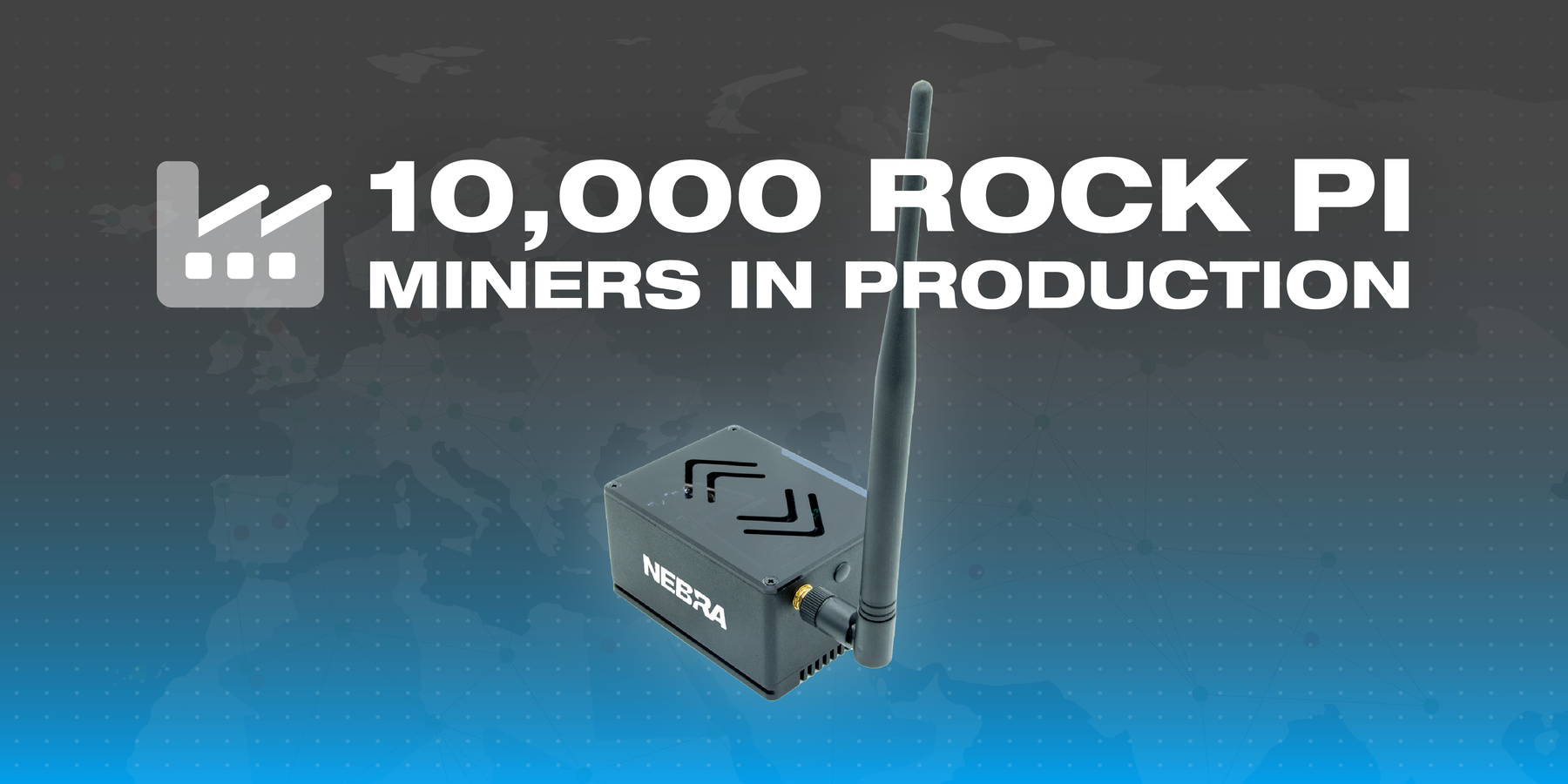 Nebra ROCK Pi Miner - 10,000 units being produced this week
Hey folks, 
We wanted to share a quick update with you regarding the Nebra Indoor ROCK Pi miners. 
Yesterday we started assembling the ROCK Pi miners at our factory in China. Based on our current schedule, we're aiming to produce ~10,000 units before Chinese New Year begins (25th of January). 
Below you can see a few photos & videos of the miners being assembled. We're going to provide an update just prior to Chinese New Year which will recap the progress on this 10k production run.  
Thousands of Nebra @helium ROCK Pi miners are currently being assembled pic.twitter.com/R2Z7pGUclt

— Nebra (@NebraLtd) January 18, 2022
When will the first 10,000 ROCK Pi units ship?
If you recall from our last update, it's been a challenge to ship products out of Hong Kong & China in recent months due to shipping restrictions. There are still restrictions in place with the major couriers (DHL, UPS, Fedex, etc) and we're doing everything we can to get the miners shipped out as quickly as possible. We're also waiting on the CE/FCC results which should be with us any day now. Once we have this the miners will be fully approved by Helium. 
We're unable to ship any units from our factory during Chinese New Year (25th of January to the 9th of February) so some of the 10,000 units will ship before the 25th of January and some will ship on the 9th/10th February. 
Nebra Dashboard Software 
Transfer your hotspot to another user
We've now added the ability for you to transfer your hotspot to someone else within the Nebra dashboard. This has been a popular feature request and we're glad that this has now been rolled out. 
In order to transfer your miner to another user, firstly log into your account at https://dashboard.nebra.com/
Then, click 'Devices' on the left hand panel to view your list of registered miners. 
Once you've done this, click on the three dots on the far left to bring up this small window. 
Click 'Transfer' and this window will appear. 
Click 'Got it' and select the email address of the user you want to transfer your miner. 
Then select 'Transfer Device' and you're done!
Onboarded Nebra Miners
Currently we're just shy of 30,000 miners onboarded onto the blockchain (we've shipped ~50,000 units) and we're aiming to ramp this up throughout February, March and beyond. The initial 10,000 ROCK Pi miner units will likely start shipping after Chinese New Year (9th February) bringing our total quantity shipped to ~60,000 pieces.
There will likely be a delay with these 10,000 units being onboard (due to shipping times to customers, when customers decide to set up their miner, etc) so we don't expect for the 28,941 figure below to jump immediately to ~40,000 units. 
Retesting the 2,000 Indoor Raspberry Pi miners
Last week we mentioned that our development team & factory were retesting ~2,000 Indoor Miners (the Raspberry Pi Compute Module version). Unfortunately we were unable to resolve the issue in the last seven days. We'll continue to work on them until we've found a solution and keep you posted on when these units will be ready to ship. If we're able to finish them prior to Chinese New Year then we'll aim to try and ship them out before China shuts down for the holiday period. If we don't manage to do this, our developers will continue to work on a solution whilst China is on holiday and (fingers crossed!) have a solution ready for reprogramming and shipping in mid February. 
Jobs
We're continuing to grow & expand our team. If you see a role that suits you, please apply on one of the links above :) If you can't see your ideal position, feel free to reach out. We can explore and see if you have a role within our growing team