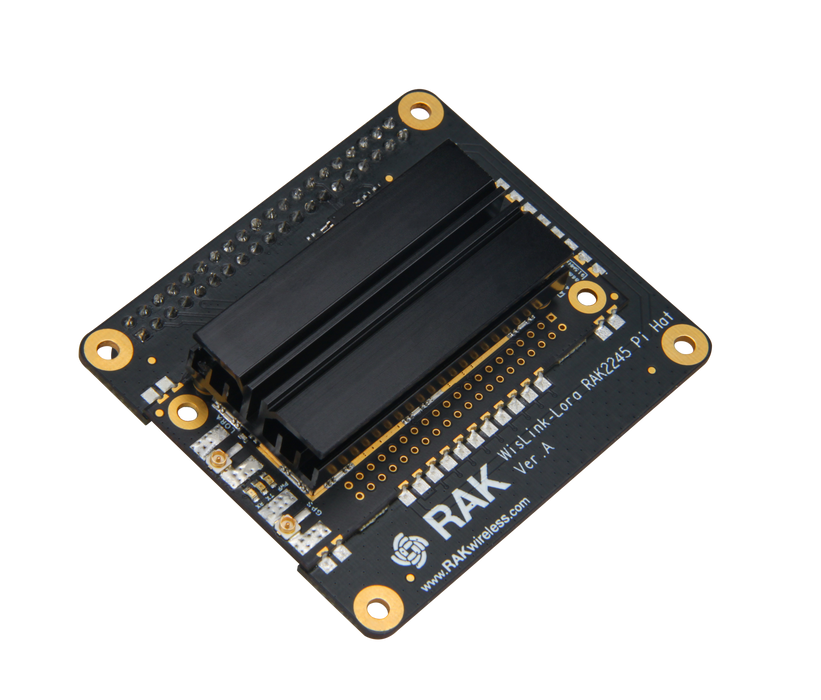 RAK2245 Raspberry Pi HAT Concentrator module for LoRa® based on SX1301
Original price
£116.66 (Ex.VAT)
-
Original price
£116.66 (Ex.VAT)
£116.66 (Ex.VAT)
-
£116.66 (Ex.VAT)
Current price
£116.66 (Ex.VAT)
Thanks for signing up for restock notifications!
There was an error signing up for restock notifications. Please try again.
Sign up for restock notifications
RAK2245 Pi HAT is a module with Raspberry Pi form factor. It can be plugged into Raspberry PI such as Raspberry Pi 3 Model B+ as a complete RF front end of LoRa® gateway. It supports eight channels and is available for LoRaWAN global frequency bands. The board is the smallest LoRaWAN® gateway concentrator which integrates the Ublox MAX-7Q GPS Module and heat sink.
The board can provide low data rate LoRa® radio links in ultra-fast speed. It is powered by a Semtech SX1301 transceiver concentrator that is capable of managing packets from many remotely dispersed end-points. Two Semtech SX125X are integrated for RF front end I/Q transceivers.
The RAK2245 Pi HAT is a complete and cost-efficient LoRa® gateway solution that can help you develop a full LoRa system. This is an economical way to create different solutions like smart grid, intelligent farm, and other IoT applications. It is also ideal for manufacturing small series that can expand into more applications
The RAK2245 Pi HAT is designed to provide GPS data over the UART interface. This is the case it is connected to another board (such as the RAK2013) that utilizes the UART interface, there will be limitations as far as GPS data goes.
However, in order to support LoRaWAN® gateways with cellular connectivity on the Raspberry Pi, RAKwireless also designed a product which utilized a modified concentrator (RAK2243 Pi HAT) that uses the i2C bus to send GPS data.
Due to resource limitation at this stage, RAK2245 Pi HAT I2C edition (RAK2243) is not offered commercially. It is only used for the purpose of the RAK7243C gateway. 
The standalone RAK2245 Pi HAT doesn't allow for the extension of its connectivity option with cellular. If for the purpose of your project you require a LoRaWAN® gateway with cellular backhaul, we recommend you purchase the RAK7243C in case of the Raspberry P platform. Should you need an industrial class gateway with cellular connectivity, there is the Rak7249. 
In case using the I2C for your GPS data stream is a must as you require the UART for another data stream, you can use the following modification manual. Note however that this is a hardware modification and is not reversible. RAKwireless is not responsible for any damage you might cause the product.
All RAK2245 configurations support 8 channels (for a number of global bands). With its ultra-compact design, it is believed to be the world's smallest loRaWAN® gateway module including GPS and heatsink. It is based on a Semtech SX1301 transceiver, complemented by dual SX125x RF front end I/Q transceivers. In a manner of speaking, it follows the design of the RAK831, the same great performance with a smaller form factor and with improved cooling and boosted max output features. 
Package contains
1 x RAK2245 Pi HAT
1 x Antenna for LoRa®
1 x GPS antenna
Features
Built-in ID EEPROM for storing identification and configuration data
Fully compatible with Raspberry Pi 40 pin header, form factor and size are also a match
iPex antenna connector (GPS and LoRa antennas included)
Full LoRaWAN® stack support (version 1.0.2)
Supports all 8 channels and spreading factors (SF7-SF12)
Semtech Sx1301 with up to -142.5 dBm sensitivity
Band support: 433MHz, 470MHz, 865MHz, 868Mhz, 915Hz, 920MHz, 923MHz,
Max output power up to 27 dBm
New design integrates Ublox MAX-7Q GPS module
GPS can be accessed by I2C in addition to UART (RAK831)
Compatible with Raspberry Pi 3 Model B+ edition.
Integrated the heat sink.
SX1301 baseband processor emulates 49 x LoRa demodulators 10 parallel demodulation paths, support 8 uplinks channel, 1 downlink channel.
2 x SX125x Tx/Rx front-ends high/ low frequency.
Supports 5V power supply.
TX power up to 27dBm, RX sensitivity down to - 139dBm@SF12, BW 125KHz.
Supports latest LoRaWAN 1.0.2 protocol. 
Supports global license-free frequency band (EU433, CN470, EU868, US915, AS923, AU915, KR920, IN865 and AS920). 
Supports SPI, UART, GPIOs interface. 
Integrated the Ublox MAX-7Q GPS Module.
Key Features
Concentrator Module: SX1301 base band processor (supports 8 uplink channels, 1 downlink channel)
GPS Module: Ublox MAX-7Q
Form Factor: Stamp Edition
Heat Sink: Metal
Frequency: EU433, CN470, EU868, US915, AS923, AU915, KR920, IN865, and AS920
LoRaWAN Version: LoRAWAN V1.0.2
Range

Urban: 2 - 4KM
Suburb: 5 - 10KM
Open Area: 15KM

Node Numbers: 500 nodes/KM2
TX Power: 27dBm (Max), typical 25dBm
RX Sensitivity: -139dBm(Min) @ SF12, BW 125KHz
Power Supply: DC 5v
LEDs

1 x Green LED fro PWR status
1 x Green LED for TX status
1 x Green LED for RX status

Interfaces: SPI, UART, GPIOs
Antenna Interface: 

1 x UFL connectors for LoRa
1 x UFL connectors for GPS

Power Consumption

TX (Max): 182 mA
RX (All channels): 360 mA

Working environment: Indoor/outdoor
Dimensions (L x W x H): 30mm x 60mm x 14.9mm
Weight: 0.75oz
Temperature Range

Normal Operation Temperature: -20 to 65
Extended Temperature: -40 to 85
Storage Temperature: -40 to 85

Compliance: FCC / CE
Documentation